Technology
Utility Sub-Metering
Utility Sub-Metering Technology
We specialize in wireless sub-meters designed specifically for multi-family residential applications.  The reports generated by the H2Odegree sensors and software provide valuable data to control utility consumption, teach conservation, and reduce overall utility costs.  We also provide daily leak reports to property managers that identify leak size and exact location.
Sub-Metering Riser Piped Buildings
Green-Able uses point of use flow meters that are installed behind shower heads, toilets, and below sinks.  This allows us to be the only company in Canada to offer water sub-metering for riser piped buildings (multiple entry points per unit).  This allows us to pinpoint leaks to their exact location, and to measure the size of the leak.  No other company in Canada has the capability to sub-meter these types of buildings.
Wireless MESH Network
Our meters work on a self-repairing wireless MESH network based on IEEE 802 standards.  The two-way communication nodes at each sub-meter are able to  both receive and transmit signals, with each meter acting as a wireless repeater for other meters.  The system is self-healing, and is instantly scalable to an infinite level.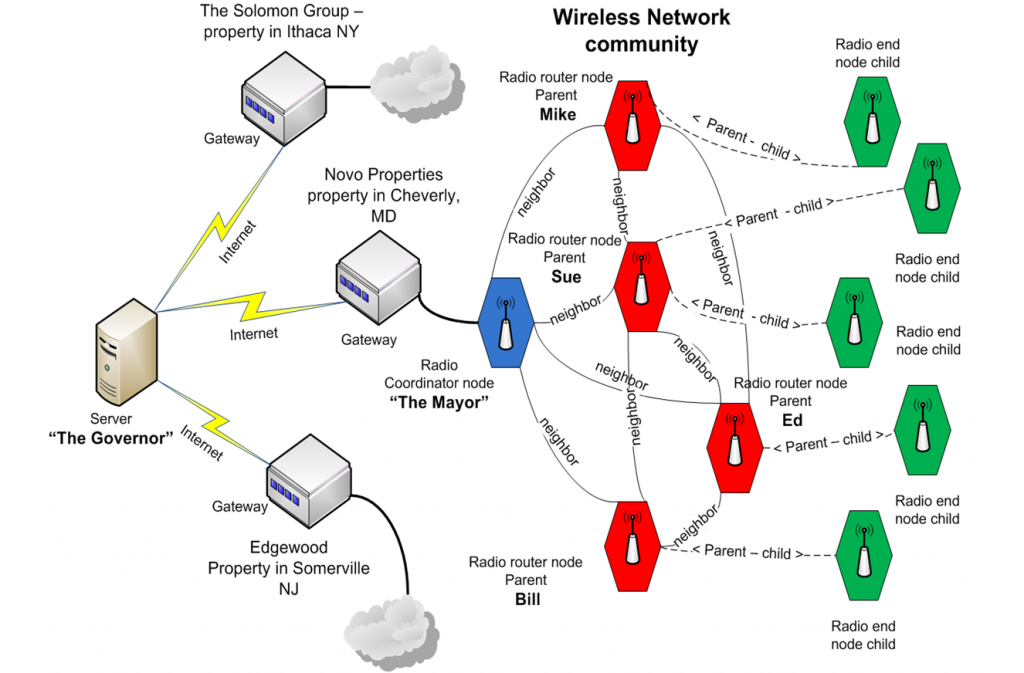 The wireless network installation also allows for a simplified, cost-effective retrofit, with no need for wiring the network.
MESH Network Benefits
The benefits of using a Wireless Mesh Network is that it is an open protocol, which is proven in the successful installation of millions of products based on this protocol.  It is a self-organizing network, that when implemented, can easily be scaled and include other wireless MESH networked products, such as smart thermostats, lighting controls, and alarm systems.
Wireless Flow Sensor
A wireless flow sensor is used in riser-piped buildings, and is installed at the point of use, such as at a tap, shower-head, and toilet.  The sensor supports thermal energy measurements, allowing for the billing of Domestic Hot Water energy.  The radio nodes can be either line-powered or battery-powered.
Specifications
2.25″ in direction of flow x 3.5″ x 3.5″
Meets IAPMO and ANSI/ASME standards
Meets NIST and AWWA accuracy levels
Measurement Canada compliant
Meets NSF-61 for potable drinking water
Turbine sensor made of Noryl
Sapphire thrust bearing, PEEK journals
Internal lubricating/cooling pump
Battery: Lithium with industrial end caps and plastic end seals
7 year battery life
2.4 million gallon estimated lifespan (20 years based on 2 hours of use/day)
Water temperature range of 1° – 70° Celsius (33°-158° F)
Water recording range of 0.25 – 8.0 Gallons/Minute
Leak Detection down to 0.1 Gallons/Minute